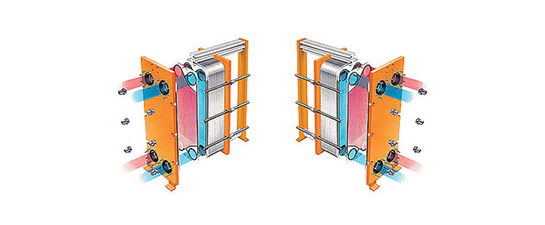 London Pumps Ltd are one of the leading distributors and service agents for HRS heat exchangers across London and the South East. We offer the supply, Installation, Commissioning & repair across the range of HRS Heat Exchangers
We can even provide a 24 hour back up team in place just in case of emergencies for clients with a current routine maintenance agreement.
The compactly designed HRS Industrial Plate Heat Exchangers range is of a high quality build and is engineered for easy inspection. The units feature stainless steel AISI 304 / 316 plates and EPDM gaskets as standard, with other materials available dependent on the processing media. The gaskets are arranged so that the two media are directed into the alternate channels created by the plates. A double seal arrangement around the two ports ensures that if fluid leaks it passes through the interspace direct into the atmosphere, avoiding cross contamination
The Company
Founded in 1981 our core business is heat transfer and its application in thousands of processes, spanning industries from Food to Pharmaceutical, from Chemical to HVAC, from Energy to Water and many innovative "Green" applications.
If you require any further information or a quotation for a HRS product please do not hesitate to contact our friendly and knowledgeable sales team.
Web: www.londonpumps.co.uk
Email:
Phone: 020 8337 7249
Address: Unit 7, Beverley Trading Estate, Garth Road, Morden, Surrey, SM4 4LU